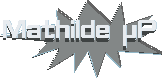 The Stone-Age Computer guestbook
Mathilde muPe
Sorrie, It is no longer possible to write a line in the guestbook.
---
Ha die Mathilde!
Veel success met je Stone-age projecten
Reinout
-------

---
Vanuit Lynx doet hij het nu ook
Succes
Reinout

---
ha, die mathilde
ik hoop dat ze in bedrockcity je presentatie waarderen
grt fred flinstone. Leander

---
Het gastenboek werkt weer!
Uw sysop...

---
Ha! dan maak ik hier een verwijzing naar
Mathilde's hoofd ingang

Reinout
-------

---
hmmja, nou het werkt zo te zien, ik kan alleen de beitel nergens vinden ;)


---
wat een fantastische installatie
eindelyk geen leesbril nodig.

---
wat een fantastische installatie

---
I named my daughter Mathilde Marie Spietz----Trip Spietz

---

Miss Rowe

---
Leuke dingen die spullen om zaken mee te vermaken tot weer andere aardigheden om mee bezig te zijn terwijl het erom spant wat van welke techniek nu stand zal houden zonder het onderspit te delven tegen nog meer utility vriendelijke software klonen ten behoeve van het opkrikken van de geest der mensheid en het automatiseren van zijn en/of haar handelingen in het dagelijkse verkeer . Dacht ik wel, mathilde. Of als je het erniet mee ens ben, heb ik ook een e-mailgebeuren voor je onder artkitch@xs4all.nl als je het kan vinden,.. Mijnerzijds ben ik al blij als ik dit naar je toe kan sturen!! Weest Gegroet!!!

---
He pieter, groeten van geert

---
http://www.mmm.nl/punch Punch>

---
Voor een stenen tijdperk band zie ook:

http://www.dse.nl/brabantpop/bands/html/brock.html

Pierre Cartner + Sonnie Crocket

---
Hallo, ik weet nog een hele goede band 'Bedrockcity' met gave
covers van deze tijd! Ieder feest gaat plat!!!!!!!!

Info: 040-2410894


covers

---
---
well hey,
hello


---
Greetings from Canada

Deryl Neufeld

---
test2

---
test

---

Hello,I am a fan of INTER



---
very nice
brigitte

---
hier ist telepolis! wo bist du?
Hubertus von Roemer aus Luxemburg

---
LTAM
Let s talk about misery

Just because they have a boring school
---
Max und Julia gruessen !!!! in die Steinzeit

---
ebusti muenchen und hamburg gruessen

---
hier sind laurent hoss, david zeyen und patrick de la hamette

---
hallo , hier ist patrick

---
Norbert Marder ,Bitburg

---
nadia

---
i really likwe stoneage computing!!! kai

---
SACHIKO KURIBARA

---
---
KEIGO-Y@PO.IIJNET.CO.JP.

---
h/////i xxxxxxxxxxxxxxxxxxxxxxxxxxxxxxxxxxxxxxxxxxxxxxxxxxxxxxxxxxxxxxxxxxxxxxxxfffffffffffaaassssssscciiinnntttinnnng

---
salve hei war d laura

---
hallo, hier war mario


---
thanks to Mathilde for explaining this wonderful piece of a garden which works like a computer. I like it!! The normal computers are really boring. doeb@inm.de

---
Bon Jour

---
Biverchen elo hu mer et Biverchen elo hu mer et



---
hallo !

---
hallo ich heisse Guillaume !

---
Salut an wei geet et NEUSA ROSA ALMEIDA DO ROSARIO

---
Hallo Mathilde,
Leuk dat die Oer PC het nog steeds doet (ik heb hem voor het
eerst op de HEU gezien). Wat ik me alleen afvroeg: welk
prehistorisch OS draait er op. MS-DOS?

Reinoud (!= Reinout)

---
Mijn vrouw en ik hebben genoten

Claus

---
ik was hier ook en ik vond het leuk
lou

---
Ga zo door

Alexander

---
Hoi Mathilde,
ik kom nog eens terug als ik de plaatjes kan zien, als ik Netscape
aan de praat heb. Leuk dat je ons boek ook hebt opgenomen.
Groetjes. Peter v/d Pouw Kraan

---

In deutschland gibt es nur Bier

---
---
But do I get to meet Bambam? EN KAN ZE OOK UNIX ??
mooi ik laat iedereen hier je fred flinstone werk zien .
groeten / greetings/ tschussie...
Megan, Julia, erik hobijn



---
Cool..

---
---
hello Mathilde,
liked your idea of stone aged comp very much
hope, i'll have a chance to see it in reality,
if you are going to present it somwhere else,
best wishes,
ieva from Latvia
( i met you at Cyberfem,International in Rotterdam)

---
cool

---
Got YOU !!! Mathilde.
How am I stung by the eternal novelty of internet, which transports me rite to el(e)(f)en.!
Did not expect to meet you here ?!
Roeland

---

Mathilde ik vindt het ongelofelijk

groetjes

( a Limbo in town)

---
Hoe vind jij deze pagina

---
Interessant!

---
Elvis has left the building!

---
HHGGGGRRRRRRRRRRRRAAAAAAAAAAAAAAAHHH!!!!!
Yesss OrYX avd WAS al online... nu komt BMoD met de Base One Online pagina!!!
RealAudio... 3D Graphics... Links... Graffiti Art...
en binnenkort VRML... wheheh... cya!

---
HI MY NAME IS ASHLEY SPELLMAN I HAVE JUST LEARN ABOUT THE STONE AGE

---
From: Mathilde µP
Date: Sat Apr 22 22:21:07 2000

Even the Stone-Age guestbook keeps up with changes of time...


---
From: Gary Kieley [n127h067.stkh.k12.nf.ca]
Date: Wed Dec 5 16:03:10 2001

I like your website.

---
From: [n127h094.stkh.k12.nf.ca]
Date: Wed Dec 5 16:03:14 2001

THE SITE WAS PERFECT AND I DID WELL

---
From: carol [24-56-238-47.mdmmi.voyager.net]
Date: Sun Jun 22 23:56:10 2003

clippy was here?

---
From: The FATMAN [m069-176.nv.iinet.net.au]
Date: Tue Aug 5 23:15:07 2003

wohoo, someone with brains actually came up with an excelent keyboard i like it, keep up the goodwork

---
From: [66.98.226.51]
Date: Wed Jun 9 18:11:55 2004


---
From: Jan [sp0694.uvt.nl]
Date: Tue Sep 28 15:15:02 2004

Hello! What a great site! It is really magnificent! Jan irsmt2@home.nl

---
From: dylan286@xoomail.com [43.ebbccf.client.atlantech.net]
Date: Fri Jan 7 19:06:52 2005

nice job


---
---
Write a line in the guestbook.