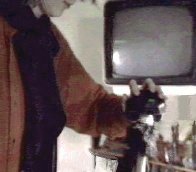 Mathilde µP (mupe@desk.nl)
Most of my electronic installations are reference to the physical experience of the virtual world of computing. The hardware side of computers are a source of inspiration. On the other hand graphic (including) web art is for me an alternate way of communicating.
My creative skills are also ventilated in work in assignement ; In the past I have designed several websites, created the PenServer -a pre smartphone concept of portable pocket computing- and developped an on-line voting game.
Being an autodidact at start-up gave me the opportunity to experiment with a variety of skills and media; from noise music up to photography. In 2007 I graduated at the Photoacademy Amsterdam. For recent information see also my current website mathilde.mupe.nl

Quotation Diana Ozon;
"Kunstenares Mathilde muPe ontwerpt en bouwt kunstwerken, electronische instalaties en projecten waarbij futuristische technieken zich aanpassen aan de basisbehoeften van de primaat homosapiens."

Quotation Armin Medosh;
"MuPe experimentiert mit ihren Arbeiten am Quell- Code selbst und entwirft, bei aller technischen Beschlagenheit, sinnliche Gegenentwürfe zu den Computern, so wie wir sie kennen. Ob mit ihrer Web-Site oder mit dem Steinzeit Computer, jedesmal scheint es ihr Ziel zu sein, Sinnlichkeit und Emotion in die Netzwelt zu bringen."
A selection of exibitons:
Heu
Lelystad, Netherlands
aug. 1993
The Stone-Age terminal placed at computer camping event by xs4all to introduce internet to public
Economische Zaken
Den-Haag, Netherlands
Jan. 1995
The Stone-Age Computer at ministry of economic afairs
Binnelandse Zaken
Den-Haag, Netherlands
Mrt. 1995
The Stone-Age Computer at ministry of internal afairs
Telepolis
Luxembuorg, Luxembourg
Nov. 1995
The Stone-Age Computer, mixed exhibition
Springtij festival
Utrecht, Netherlands
Dec. 1995
Multi Media Excess, mixed exhibition
Geben und Nehmen
Pluschow, Germany
1996
Multi Media Excess, mixed exhibition
HAL 2001
Twente, Netherlands
Aug. 2001
Power Pong at computer camping event at TU Twente
Waag
Amsterdam, Netherlands
April 2003
Multi Media Excess, performance at the launch of the documentaire Hippies From Hell (Ine Poppe)
A selection of assignments:
The Stone-Age Computer x-large
Silicon Graphics, Netherlands
Oct. 1993
This enhanced version was exhibited at the introduction of Indy computer in the Netherlands
Grunge Calculator
Ministy of internal afairs, Netherlands
Mrt. 1995
Prize object for web innovative projects
A-Maze
Te/epolis on-line, Germany
dec. 1995
One of the first web project at the Te/epolis site
PenServer
Soops, Netherlands
Aug. 1998
Concept for smart computer-bridging PDA
Bookcover Hartspanne
Diana Ozon
2009
Design and photography for the poetry book Hartspanne by Diana Ozon